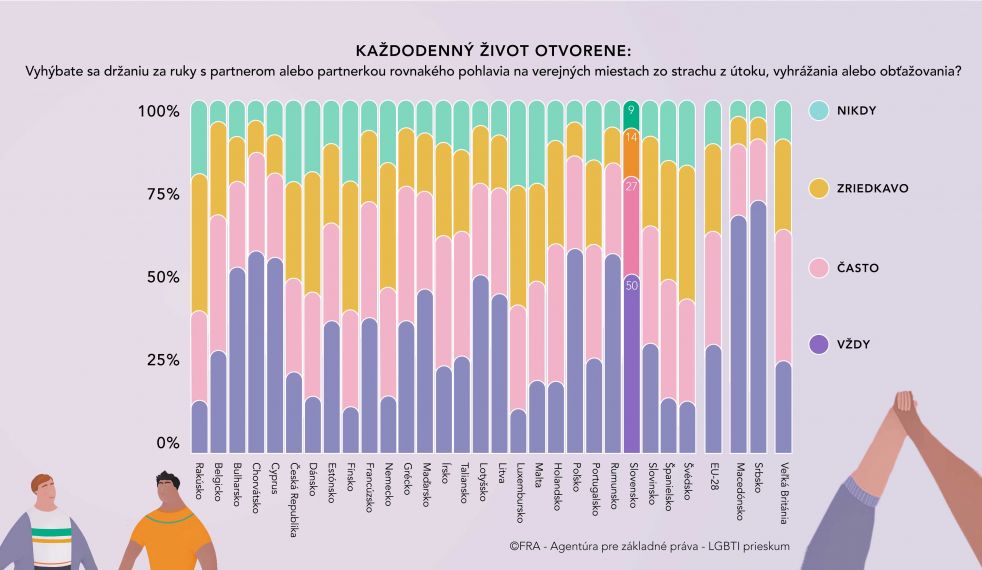 Agentúra pre základné práva (FRA) je výskumná agentúra Európskej komisie, ktorá sa
zaoberá situáciu rôznych menšín, ako napríklad ženy, ktoré zažívajú násilie, rómska menšina, ale aj LGBTI ľudia. V polovici mája zverejnila výsledky prieskumu
životnej situácie LGBTI ľudí. Zúčastnilo sa ho skoro 140000 LGBTI ľudí. Za Slovensko
2955 LGBT ľudí, a to 14% lesieb, 45% gejov, 24% bisexuálnych žien, 6% bisexuálnych
mužov, 7% transrodových ľudía 2% intersexuálnych ľudí.
Prieskum ukázal, že otvorenosť LGBTI ľudí v rôznych prostrediach je na Slovensku stále pomerne nízka. 48% respondentov uviedlo, že nikdy nie sú otvorený v rôznych
prostrediach a 25% zriedkavo, teda celkovo je málo otvorených, resp. skrýva svoju
identitu 73% (pričom priemer EÚ je 53%).
V práci úplne utajuje svoju identitu na Slovensku 41% LGBTI ľudí (priemer EU 26%) a na škole 54% LGBTI ľudí (EÚ 58% ), v roku 2012 to bolo na Slovensku 55%. Zvyšok je otvorených len veľmi málo niekoľkým ľuďom.
77% LGBT ľudí sa vyhýba držaniu za roku na verejnosti kvôli tomu, že sa boja napadnutia, ohrozovania, obťažovania. Priemer EÚ je 61%. Vo všetkých oblastiach pociťovalo na Slovensku diskrimináciu 46% LGBT ľudí, teda skoro každý druhý. 22% respondentov a respondentiek, teda jedna štvrtina, sa cítili diskriminovaná kvôli sexuálnej orientácii alebo transrodovej identite v práci za posledných 12 mesiacov (priemer EÚ 21%). V škole sa cítilo diskriminovaných dokonca 28% LGBTI ľudí, takmer každý tretí ( priemer EU 19%). Šikanu na škole zažilo 40% LGBTI ľudí. 40% LGBTI ľudí na Slovensku zažilo obťažovanie.
Téme sme sa venovali aj v Teplej vlne.
Grafy: Eurobarometer 2019 a Agentúra pre základné práva _ LGBTI prieskum 2020